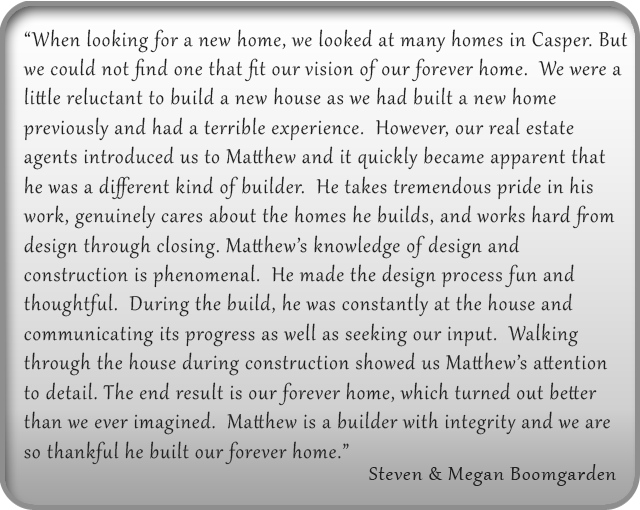 "When looking for a new home, we looked at many homes in Casper. But we could not find one that fit our vision of our forever home. We were a little reluctant to build a new house as we had built a new home previously and had a terrible experience. However, our real estate agents introduced us to Matthew and it quickly became apparent that he was a different kind of builder. He takes tremendous pride in his work, genuinely cares about the homes he builds, and works hard from design through closing. Matthew's knowledge of design and construction is phenomenal. He made the design process fun and thoughtful. During the build, he was constantly at the house and communicating its progress as well as seeking our input. Walking through the house during construction showed us Matthew's attention to detail. The end result is our forever home, which turned out better than we ever imagined. Matthew is a builder with integrity and we are so thankful he built our forever home."
-Steven
"The homes I have visited are high quality, trend setting and meticulously built. They are setting a standard to which other companies should strive. Anyone purchasing a home should take comfort and pride you are getting a home for life and one that is unsurpassed.
-Eric McMillan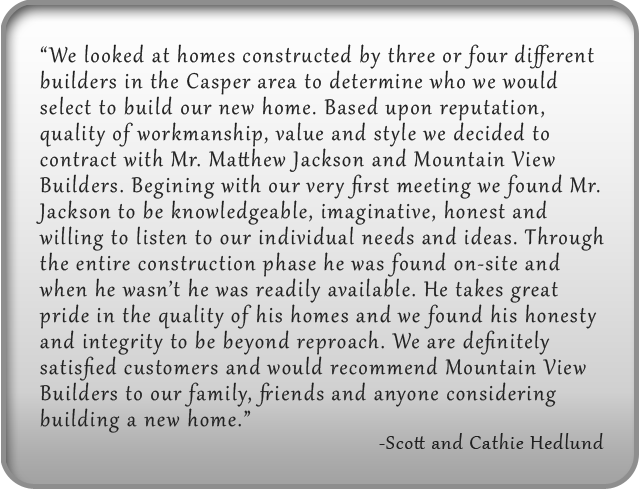 "We looked at homes constructed by three or four different builders in the Casper area to determine who we would select to build our new home. Based upon reputation, quality of workmanship, value and style we decided to contract with Mr. Matthew Jackson and Mountain View Builders. Begining with our very first meeting we found Mr. Jackson to be knowledgeable, imaginative, honest and willing to listen to our individual needs and ideas. Through the entire construction phase he was found on-site and when he wasn't he was readily available. He takes great pride in the quality of his homes and we found his honesty and integrity to be beyond reproach. We are definitely satisfied customers and would recommend Mountain View Builders to our family, friends and anyone considering building a new home."
-Scott & Cathy Hedlund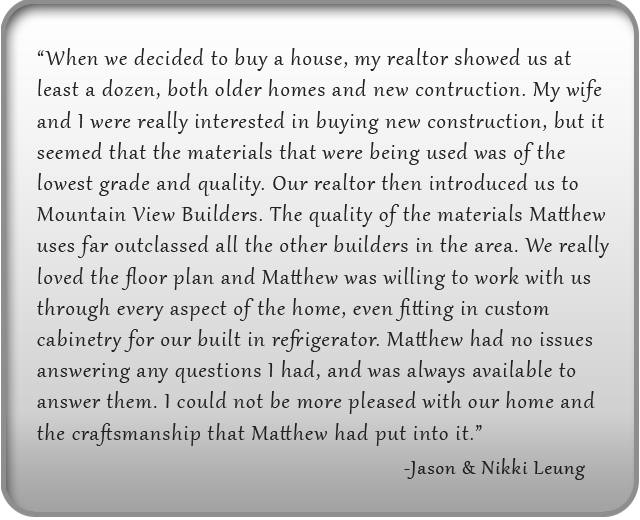 "When we decided to buy a house, my realtor showed us at least a dozen, both older homes and new contruction. My wife and I were really interested in buying new construction, but it seemed that the materials that were being used was of the lowest grade and quality. Our realtor then introduced us to Mountain View Builders. The quality of the materials Matthew uses far outclassed all the other builders in the area. We really loved the floor plan and Matthew was willing to work with us through every aspect of the home, even fitting in custom cabinetry for our built in refrigerator. Matthew had no issues answering any questions I had, and was always available to answer them. I could not be more pleased with our home and the craftsmanship that Matthew had put into it."
-Jason & Nikki Leung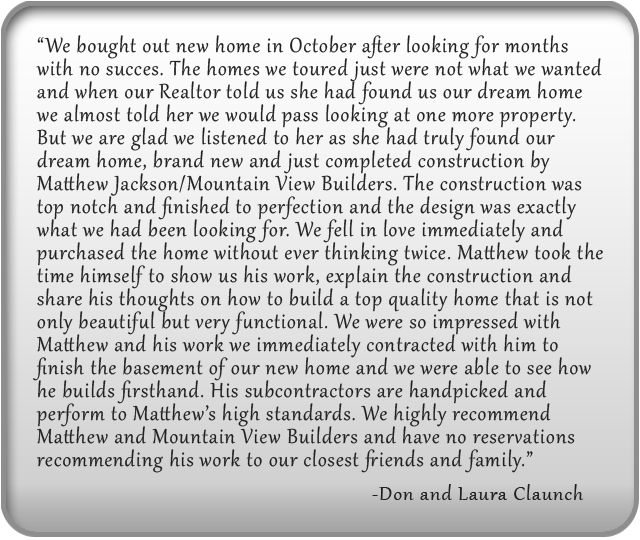 "We bought out new home in October after looking for months with no succes. The homes we toured just were not what we wanted and when our Realtor told us she had found us our dream home we almost told her we would pass looking at one more property. But we are glad we listened to her as she had truly found our dream home, brand new and just completed construction by Matthew Jackson/Mountain View Builders. The construction was top notch and finished to perfection and the design was exactly what we had been looking for. We fell in love immediately and purchased the home without ever thinking twice. Matthew took the time himself to show us his work, explain the construction and share his thoughts on how to build a top quality home that is not only beautiful but very functional. We were so impressed with Matthew and his work we immediately contracted with him to finish the basement of our new home and we were able to see how he builds firsthand. His subcontractors are handpicked and perform to Matthew's high standards. We highly recommend Matthew and Mountain View Builders and have no reservations recommending his work to our closest friends and family."
-Don and Laura Claunch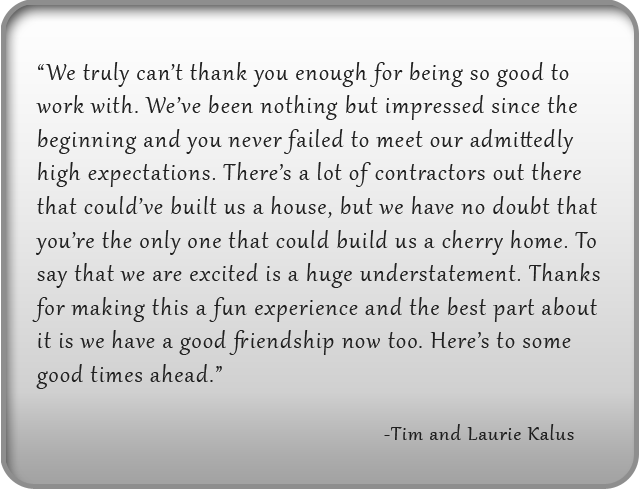 "We truly can't thank you enough for being so good to work with. We've been nothing but impressed since the beginning and you never failed to meet our admittedly high expectations. There's a lot of contractors out there that could've built us a house, but we have no doubt that you're the only one that could build us a cherry home. To say that we are excited is a huge understatement. Thanks for making this a fun experience and the best part about it is we have a good friendship now too. Here's to some good times ahead."
-Tim and Laurie Kalus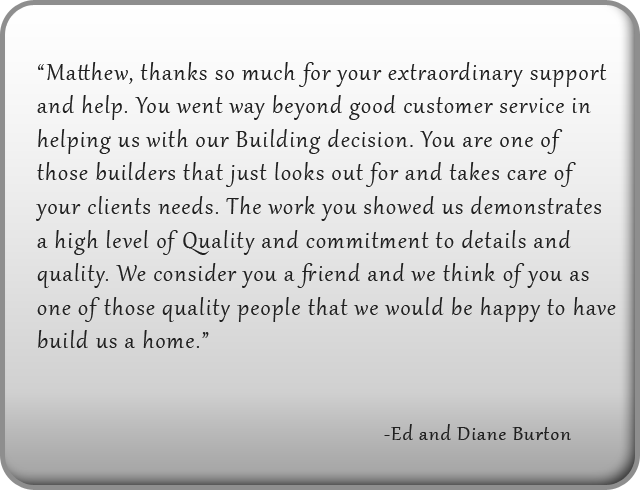 "Matthew, thanks so much for your extraordinary support and help. You went way beyond good customer service in helping us with our Building decision. You are one of those builders that just looks out for and takes care of your clients needs. The work you showed us demonstrates a high level of Quality and commitment to details and quality. We consider you a friend and we think of you as one of those quality people that we would be happy to have build us a home."
-Ed and Diane Burton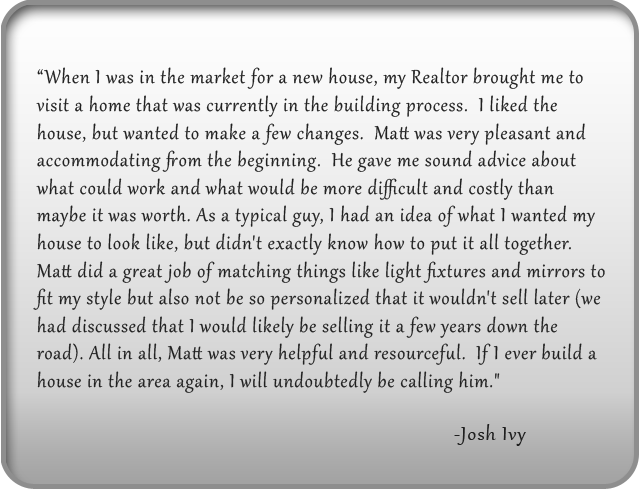 "When I was in the market for a new house, my Realtor brought me to visit a home that was currently in the building process. I liked the house, but wanted to make a few changes. Matt was very pleasant and accommodating from the beginning. He gave me sound advice about what could work and what would be more difficult and costly than maybe it was worth. As a typical guy, I had an idea of what I wanted my house to look like, but didn't exactly know how to put it all together. Matt did a great job of matching things like light fixtures and mirrors to fit my style but also not be so personalized that it wouldn't sell later (we had discussed that I would likely be selling it a few years down the road). All in all, Matt was very helpful and resourceful. If I ever build a house in the area again, I will undoubtedly be calling him."
-Josh Ivy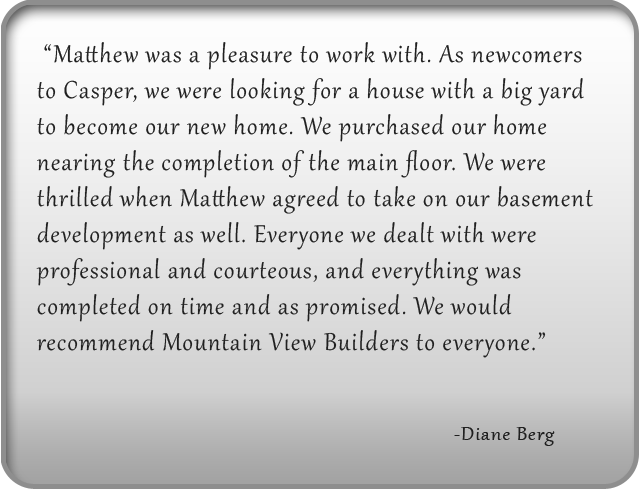 "Matthew was a pleasure to work with. As newcomers to Casper, we were looking for a house with a big yard to become our new home. We purchased our home nearing the completion of the main floor. We were thrilled when Matthew agreed to take on our basement development as well. Everyone we dealt with were professional and courteous, and everything was completed on time and as promised. We would recommend Mountain View Builders to everyone."
-Diane Berg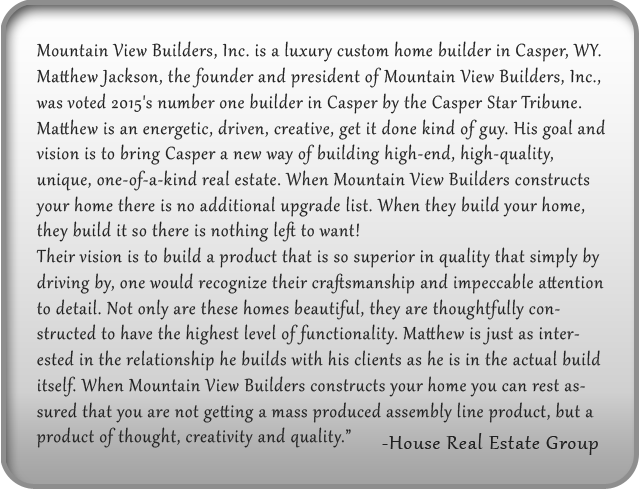 "Mountain View Builders, Inc. is a luxury custom home builder in Casper, WY. Matthew Jackson, the founder and president of Mountain View Builders, Inc., was voted 2015's number one builder in Casper by the Casper Star Tribune. Matthew is an energetic, driven, creative, get it done kind of guy. His goal and vision is to bring Casper a new way of building high-end, high-quality, unique, one-of-a-kind real estate. When Mountain View Builders constructs your home there is no additional upgrade list. When they build your home, they build it so there is nothing left to want!
Their vision is to build a product that is so superior in quality that simply by driving by, one would recognize their craftsmanship and impeccable attention to detail. Not only are these homes beautiful, they are thoughtfully constructed to have the highest level of functionality. Matthew is just as interested in the relationship he builds with his clients as he is in the actual build itself. When Mountain View Builders constructs your home you can rest assured that you are not getting a mass produced assembly line product, but a product of thought, creativity and quality."
-House Real Estate Group